Sump Pump Installation, Repair, and Maintenance in Chicago, Illinois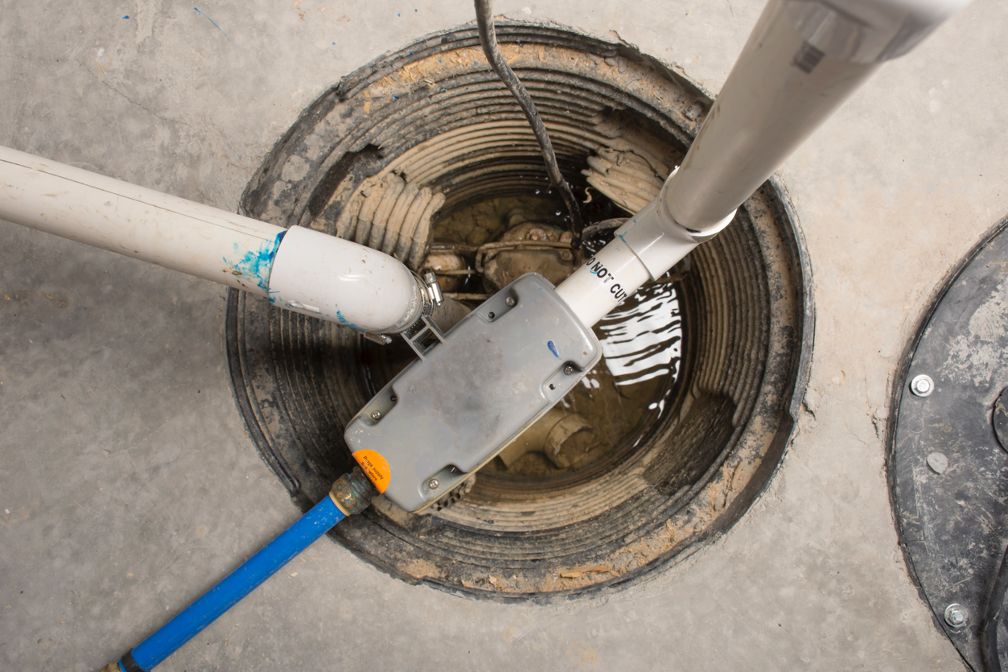 A sump pump is one of the many important devices in Chicagoland homes. Anyone with a basement knows how crucial these systems are to keep your foundation dry and safe. A fully functional sump pump keeps the basement from flooding while removing excess water from low-lying areas of the property. To ensure there is no flood damage, the sump pump must remain functional all year round.
At R Carrozza Plumbing Co, we offer comprehensive sump pump installation, repair, and replacement services to families and businesses in Chicago and the Chicagoland suburbs. So, to avoid any water-related damage, do not hesitate to schedule an appointment with the licensed experts at R Carrozza Plumbing Co.
How Do Sump Pumps Work?
The sole purpose of a sump pump is to help prevent water damage. It is placed in the property where most water accumulates — the lowest point of the property, usually the basement.
The pump activates when the float switch rises because of elevated water levels. After activation, a hose transports this water away from the property. Being hooked to battery backup allows the pump to continue working during power outages.
These devices are extremely beneficial in areas that are prone to flooding. It also helps assist your home's drainage system, especially during bad weather. But due to regular wear and tear, sump pumps require repairs and maintenance to avoid mechanical failures. To ensure your pump will be ready to perform when you need it, it's important to partner with your local sump pump company so they can perform routine testing and upkeep.
Sump Pump Installation
If you do not already have a sump pump in your Chicagoland basement, you should consider having one installed. It will save your time and expenses on future water-related damages to your property. But how should you go about choose your pump? Choosing a suitable unit is just as important as hiring the right installers. Here is a quick overview of the factors you should consider:
Pedestal or submersible
Manual or automatic
Float/ pressure switch
Type of power system
Battery backup with or without alarm
Local code requirements
Not sure which is right for your home? Do not hesitate to get in touch with our experts.
Sump Pump Repair and Maintenance
A sump pump is the ultimate line of defense that protects your property against flooding. If it fails, the consequences can be severe. With that said, it's important to make sure it is operating at its maximum efficiency. Even more than that, it's important to hire a certified professional to address the unique needs of your system. If your concerns are inadequately addressed, it can lead to expensive damages.
At R Carrozza Plumbing Co, our team is equipped to perform repair and maintenance of popular brands, including Champion, Zoeller, and Metropolitan. When you work with us, you can be sure that you will receive a tailored solution for your unique requirements. Don't worry — if you have a sump pump of another brand, we can fix that too.
Indicators of a Sump Pump Problem
Every sump pump has a lifecycle. When the time comes, you will start seeing definite signs of a failing system. Here are some signs to be mindful of:
No water in the sump pit
Abnormal gurgling or rattling sounds
Contaminants in the sump pit
Clogged or broken components
Blown or dead fuse
This isn't a comprehensive list, but only some of the common problems people face. If you notice anything strange with your system, do not hesitate to contact a professional to diagnose the situation and recommend a solution.
Keep Your Home Dry with a High-Quality Sump Pump from R Carrozza Plumbing Co
A fully functional sump pump offers the peace of mind that your basement will remain moisture- and water-free. But if your sump pump hasn't been working as efficiently as it should lately, it's time to have the problem addressed by the experts.
Regardless of your situation, you can count on the trained and qualified plumbing professionals at R Carrozza Plumbing Co. We offer timely, safe, and affordable sump pump installation, repair, and replacement service to families and businesses throughout the Chicagoland area. Contact us today at (847) 451-7040 to learn how we can help.